Lutherstadt Wittenberg
Germany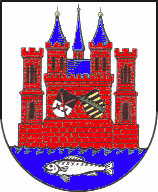 Cradle of the Reformation
This small city on the banks of the River Elbe is known as the cradle of the Reformation. It was the birthplace of the Reformation movement that centred around Martin Luther. The new doctrine and new freedoms were channelled into a coherent force that emanated into the wider Empire and other parts of Europe.
Martin Luther (1483-1546) was appointed in 1512 as a professor at the then ten-year-old university of this Saxon residential city of Wittenberg. The publication of his criticism of the Church's system of indulgences and penitential practice on All Hallows' Eve in 1517 was the obvious catalyst for the Reformation movement. The subsequent heresy proceedings against Luther, his excommunication in 1520 and his defence before the Diet of Worms in 1521 attracted keen interest throughout the entire Empire. Reformist views had long since permeated swathes of the German population: that Jesus Christ is the only true mediator between God and man – not saints, priests, nor the Pope; that it is the Holy Scripture that affords the faithful access to God and Christ, making it superior to church law or Council decrees; and that Christians cannot be represented before God – neither by the Church, nor by pious behaviour on their own part or on the behalf of others.
An unknown degree of freedom broke out, which succeeded in turning church life upside down within the space of a few years. Latin mass was replaced by Protestant worship, in which the sermon relayed the Bible in the congregation's mother tongue, monasteries were dissolved, priests started to marry, the Bible was translated into popular languages, and schools were founded to teach the common people how to read and write. The new faith was spread in pamphlets and via the medium of song. Many others advanced the cause of the Reformation in Wittenberg besides Luther himself – Philipp Melanchthon (1497-1560), the theologian and Protestant educational reformer; Lucas Cranach (1472-1553), the painter and publisher of the Reformation agenda; Johannes Bugenhagen (1485-1558), the first Protestant pastor in Wittenberg; and Justus Jonas (1493-1555), who endeavoured to translate the Reformation into orders and structures.
Wittenberg became the epicentre of this new doctrine and drew hordes of students from all over Europe who then wanted to spread Reformist ideas throughout their native countries. Wittenberg is so intrinsically linked with the Reformation and Luther that it formally adopted the prefix "Lutherstadt" in 1938.
The city's Reformation heritage has been awarded UNESCO protection. Wittenberg's castle church, city church, and Luther's former residence along with that of Melanchthon have all been included in the list of World Heritage sites.