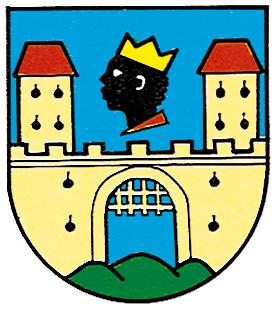 Protestant despite Catholic landlord
The Lower Austrian city of Waidhofen an der Ybbs had become wealthy through the iron trade and extensive trade relations with German imperial cities before Luther's new doctrine appeared there.
In 1528, brothers Paul and Johannes Rebhun, sons of a tanner from Waidhofen, became inspired by the Protestant cause while studying at the University of Wittenberg. The new doctrine, with its sense of freedom, soon also attracted followers in Waidhofen, particularly amongst the common citizens. They had often been subjected to repression by their landlord, the Bishop of Freising, and fared worse than the citizens of the princely cities. A report written by Bishop Heinrich III of Freising's episcopal guardian in 1535 contains a complaint about the emergence of the new faith and the sale of church property. This provides written evidence of the Protestant movement in Waidhofen at this time.
Waidhofen an der Ybbs was an almost entirely Protestant city around 1550. As a committed Protestant, city clerk Wolf Ebenberger influenced the course of the city during the following years. The City Council was also predominantly Protestant by then and appointed pastor Edlinger as the preacher at the city church. Edlinger got married and conducted worship in German.
Conflicts repeatedly broke out between the Council and the Bishop of Freising's representative. In 1587, a joint imperial-episcopal commission eventually intervened with the result that the Protestant City Council was dismissed and Re-Catholicisation was imposed by means of in part severe measures. Ebenberger was imprisoned and died in detention, while many Protestant families fled. The city's economy collapsed and many of its houses were abandoned for at least a century.
Nowadays, there is a Protestant community once again in Waidhofen. Industrialisation brought an influx of Protestants to the region, and from 1877 on Waidhofen was tended to by the Protestant parish community of Steyr, until Waidhofen became a Protestant parish in its own right in 1922. The ecumenical ties between the Catholic and Protestant Churches manifest themselves in the Citizens' Hospital Chapel, which hosts worship by both confessions.
There will be many events in Waidhofen an der Ybbs to celebrate the anniversary of the Reformation, including an exhibition recounting the history of Protestantism in the Must Quarter. City tours and concerts will also highlight the Reformation.