The Reformation City of Idstein
Germany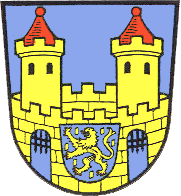 That which belongs together grows together here
The timber-frame town of Idstein lies in the Taunus mountain range not far from Wiesbaden and Frankfurt am Main. This former Nassau residential town is known for having overcome the divisions between Lutheran and Reformed adherents during the Reformation era.
The Reformation gained ground at varying rates throughout the different Nassau territories. Whilst Protestant preaching commenced in Nassau-Weilburg as early as 1526 and Protestant worship was celebrated in Nassau-Dillenburg from 1529 onwards, the tenets of the Reformation did not start to catch on in Nassau-Idstein until after 1540. Multiple changes of rule stilted the Reformation's progress, but after Nikolaus Gompe (1514-1595) was called to Idstein to preach in 1553, the budding faith blossomed so vigorously that even the Re-Catholicisation efforts of subsequent rulers failed to uproot it. All the same, the Reformation was only finally completed in the County of Idstein-Wiesbaden in 1609 with the introduction of the "Nassau-Saarbrücken Church Order and Agenda". With this, Nassau-Idstein became a Lutheran territory, while its northern neighbour Nassau-Dillenburg emerged as one of the forerunners of Reformed Protestantism.
In response to pressure from Napoleon, the Nassau rulers united to form the Duchy of Nassau in 1806, in which Catholics, Lutherans and Reformed Protestants lived in more or less confessional equilibrium. Under the auspices of the 300th anniversary of the Reformation in 1817, the Lutheran and Reformed Protestants united to form the "Protestant Christian Church". The "Nassau Union" marked the first resolution of confessional divisions within Protestantism across a large territory. It was achieved by focusing on the shared Reformation heritage.
It would take more than 150 years until the Leuenberg Agreement overcame the divisions between the Protestant Churches at European level in 1973. As was the case for the Nassau Union, the creation of the European Church Community was also achieved by joint reflection upon the tenets of the Reformation.
Visitors to Idstein are drawn to its Union Church where the union was sealed in 1817. Unusually for a Protestant church, it contains a series of paintings by artists from the Rubens School that depict the life of Jesus to form a visual sermon. The Union Church is being extensively renovated so it will shine in its full glory to celebrate the 200th anniversary of the Nassau Union together with the quincentenary of the Reformation in 2017.