Reformation City Celle
Germany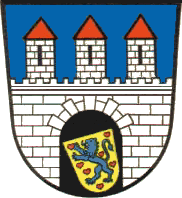 Princes stride into a new era
The town of Celle lies to the northeast of Hannover, the capital city of the federal state of Lower Saxony, in northern Germany. To the north stretches the Lüneburg Heath, a vast area of heathland and forest that in former times made up most of the Principality of Lüneburg. From 1433 on, the Princes of Lüneburg formally resided in Celle Castle, which was when the town started to flourish economically. A cluster of half-timbered buildings from the late Middle Ages forms its historical heart.
Celle was the first town after Wittenberg to take Reformation fully on board as early as 1524. The initiative behind this stemmed from Ernest I, the Duke of Brunswick and Lüneburg (1497–1546), who later also earned the suffix "Confessor".
The two brothers Duke Otto (the first-born) and Duke Ernest were entrusted to their uncle Frederick the Wise for their education. He sent them to the University of Wittenberg, which he himself had founded, from 1511 to 1516 and appointed Georg Spalatin, an instrumental early protagonist of the Reformation, to oversee their studies. There, they attended Luther's lectures, in which they became first-hand witnesses of the birth of Reformation thought.
By the time the Princes returned to the residence of Celle following their educational travels, Wolf Cyclop had settled there in 1517 as court physician to the reigning Duke Henry. Cyclop, who was an avid supporter of Luther, had formerly been a professor of mathematics in Wittenberg, then a pharmacist. Thus he did not hesitate to take on the Franciscan monks who performed mass at the town's St. Mary's Church and resisted any kind of renewal. Otto and Ernest had already announced their allegiance to the Reformation movement on 28 July 1521, some days before their father formally appointed them co-governors in state parliament. One year later, Duke Henry abdicated and fled into exile in France upon his Imperial banishment. With this, Lüneburg became one of the five pro-Reformation Imperial Principalities.
In 1527, Ernest secured the agreement of the Diet to reform the monasteries, which sanctioned the introduction of the Reformation throughout the Principality and the reorganisation of the financial system. In 1530, he summoned Urbanus Rhegius to Celle, who first implemented the Reformation in the town of Lüneburg before turning his hand to reforming the monasteries. His appointment marked the successful introduction of the Reformation in Celle, just as the seminal Protestant document known as the Augsburg Confession was being unveiled, which Dukes Ernest and Otto also duly signed.